Virtual Ability® is a cross-disability peer support community that operates in online virtual worlds like Second Life®.  The Virtual Ability on-line community has over 1,000 members from six continents.  Our members have a wide range of disabilities: physical, mental, emotional, developmental, or sensory (deafness or blindness).  Many use assistive technology in their daily lives, or to access their computers.
Not all of our community members have disabilities.  About a quarter of our membership includes family members or friends of persons with disabilities, medical professionals, caregivers, or researchers with an interest in disability issues.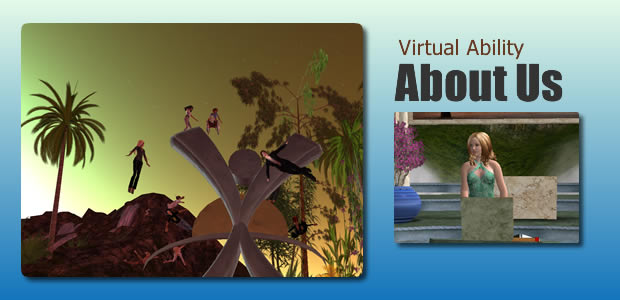 Supporting the Virtual Ability online community is Virtual Ability, Inc., the real-world corporation.  Chartered in Colorado, USA, Virtual Ability, Inc. is a registered 501(c)(3) nonprofit corporation.  The corporation provides services and information for and about people with disabilities in online virtual worlds such as Second Life.  The majority of the funding we use to conduct our virtual world operations and provide services to our community members is earned from projects conducted by the corporation.  These projects not only enable the virtual community, but they offer opportunities to train and hire persons with disabilities to do specific tasks.  Virtual Ability, Inc. is governed by a Board of Directors.
Virtual Ability is a vibrant community with its own culture and norms.  It's a group with a strong and evident sense of belonging.  In fact, it's a model for vibrant and healthy communities everywhere.