IDRAC 2015
International Disability Rights Affirmation Conference
It's All About the People
November 13 and 14, 2015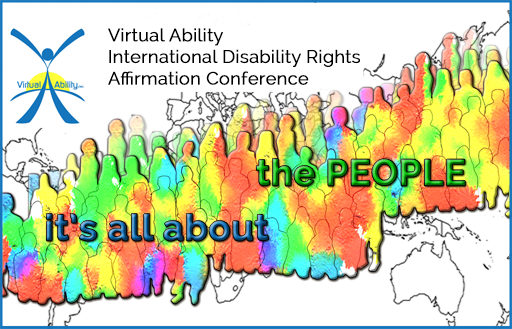 The Sojourner Auditorium, Virtual Ability
http://maps.secondlife.com/secondlife/Virtual Ability/53/172/23
The fourth annual IDRAC conference continues to celebrate successes, identify issues and re-affirm the rights of people with disabilities across the world.
The slate of presenters is broad and varied. Scheduled presenters include:
Academic research related to international conversations on disability and social justice.
An historic reflection on the oldest disability peer support community in the virtual world Second Life.
A software developer demonstrating how screen readers work for blind computer users, and how Second Life can be adapted for that community.
A Second Life resident with autism describes how virtual world properties mitigate some of her symptoms while she is in Second Life
An author, mother of a visually impaired child, reads from her memoir about parenting when the word "normal" has to be redefined.
And more.
Presenters will present from the United Kingdom, Japan, Saudi Arabia, Canada, and the US.
Information about the conference, the speakers and the schedule is available on Virtual Ability's blog at http://blog.virtualability.org.